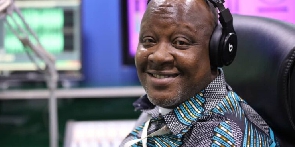 Renowned Broadcast Journalist, Kwami Sefa Kayi has urged upcoming politicians especially the youth to take a cue from the secret relationship between the later former General Secretary of the New Patriotic Party (NPP) Kwadwo Owusu Afriyie widely known as Sir John and Mr Johnson Asiedu Nketia.
He observed that though both appeared to belong to different political parties, they remained the best of friends behind the scenes unknown to many followers who see politics as a do or die affair.

According to him, the revelations by Mr Johnson Asiedu Nketia about how they supported each other in turbulent times is just amazing urging the youth to take useful lessons from the two and stop nurturing toxic relationships just because of politics.

Speaking on his show on Thursday monitored by MyNewsGh.com, he admonished persons who aspire to make an impact in politics to see the game as a battle of ideas and not a wing to create enemies.

"Mosquito and Sir John were the best of friends though they belonged to different political parties as he has just told us in his tribute on air. Though both disagreed on issues on radio openly, they were quite close and I would urge the youth to take useful lessons from them. They should not use politics as a means of creating enemies", he admonished.
The General Secretary of the National Democratic Congress (NDC) on Thursday revealed that the late Sir John was his bosom

Speaking to Accra-based Okay FM, the NDC guru narrated how Sir John came to live with him while he mourned the loss of his mother and made preparations for her funeral.

"…I was deeply touched when he (Sir John) came to stay with me for 3 days after the death of my mother… he could have stayed in a hotel when everyone else had left but he came to live in my house. We ate the same food and did a lot of things together. The Pentecostal pastor who presided over the funeral, as well as sympathisers who were present, were amazed by his gesture. That General Secretaries of the two rival parties would get along so well…," Asiedu Nketia noted.