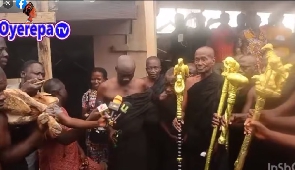 The Sefwi-Wiawso Traditional Council last week performed rituals as part of measures to summon Onua FM/TV presenter Captain Smart over controversial comments he is reported to have made about the Western North Region.
In a June 30, 2023 post shared by Oyerepa TV, elders of the area are sighted pouring libation over the issue with reports indicating that the slaughtering of a sheep followed.

Speaking in the Bono language as he poured libation, an elder makes invocations and comments to the effect that if Captain Smart comes to redeem himself, their doors are open but if not, the gods should deal with him as they deem fit.

Captain Smart, is said to have made ethnocentric comments on his show describing the Western North Region as the most useless region created by President Nana Addo Dankwa Akufo-Addo.

A member of the council in a later interview called on the National Media Commission (NMC) to rein in Captain Smart and others like him who make inflammatory statements that are inimical to peace.

He also stated that the Western North Region would forthwith have nothing to do with Smart's employees, Media General Group: "here in the useless region, why do you send representative here?" he quizzed.
The Western North Region is one of the six new regions of Ghana created in 2019. The region is bounded by the Ivory Coast on the west, the Central region in the southeast, and the Ashanti, Ahafo, Bono East and Bono regions in the north.



You can also watch this episode of People & Places here:




Watch the latest episode of Everyday People on GhanaWeb TV below:





You can also watch this feature on climate change and its impact on fish and sea life:




Share your news stories and ideas with GhanaWeb




To advertise with GhanaWeb


SARA