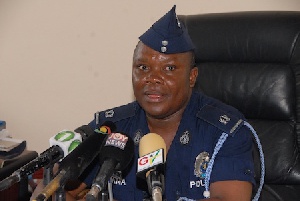 The Ghana Police Service has said an internal memo directing all personnel of the Motor Traffic and Transport Department (MTTD) to stop checking drivers' licences and road worthy certificates "until further notice", was leaked to the public.
Superintendent Cephas Arthur, Director of Public Affairs of the Police Service, told Prince Minkah on Class91.3FM's Executive Breakfast Show on Wednesday, 5 October, that: "The leaking of these internal memos is a conundrum that we are all fighting.

"Perhaps it is something that we have to live with. … All it takes is for one miscreant police officer…to take a shot of an internal memo and send it [out]. It is something that is very untoward. In the police administration, we're deploying our rules and regulations to check it but we may never be able to totally uproot it. We have to manage it," he said.
The memo, which was signed by Commissioner of Police Ransford Moses Ninson said: "All motor checks in the country [are to be] suspended with immediate effect."

The message said all personnel of the MTTD are to be "used only for traffic management duties only", while personnel of the Highway Patrol Unit are only to check for arms and drugs.