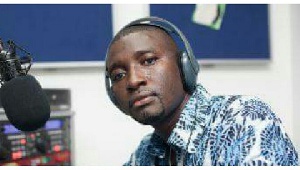 A member of the Ashanti Regional Communication team of the ruling National Democratic Congress (NDC), Kwaku Asafo Agyei has disclosed that host of Montie FM's late afternoon political show Salifu Maase alias Mugabe is not a card bearing member of the party.
He explained that the journalist is only defending the party because of his love for President John Dramani Mahama and his desire to see him in office for another four-year term.

"He is not a card bearing member of the party, I can tell you that. Mugabe is just supporting President John Dramani Mahama and his support has translated into something positive for the party", he stated.unity-walk-banner2

On Abusua Nkomo hosted by Kwame Adinkra, he said the outburst of Mugabe on Wednesday during his show, is a representation of his opinion lashing out at the media for tweaking exactly what he said.

"I am disappointed the media decided to twist exactly what he said in pursuit of a clandestine agenda to suit the interests of some political parties", he intimated.

It would be recalled that the broadcast journalist directed his fury and frustrations at appointees of the ruling National Democratic Congress (NDC) and the party for what he described as a total neglect.
He claimed the party and the ministers have over a period neglected those who are working assiduously to ensure the second term victory of President John Dramani Mahama just because they have the love for him.

"You will get up one day and will not hear me come to sit here to defend the party again. Those ministers and appointees think the job is easy but I can tell you they have not got that capacity to do what we are doing. What we do is a deadly job", he fumed.

"When the power leaves you then you will know the true power of the people. No radio adverts and no TV adverts for us .Keep giving adverts to the senior journalists. Our families have been neglected since we came out of prison", he emphasized.