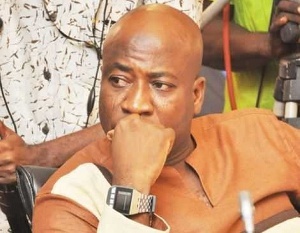 A Deputy National Organizer of the opposition National Democratic Congress (NDC) Mahdi Gibril says it was very unfortunate for Murtala Mohammed to make comments that, Muntaka Mohammed confirmed to the party's leadership a bribe was indeed given.
The Minority Chip had denied the allegation and swore by the Quran that, there was no bribe given to him to share among the Minority members on the Appointments Committee.

The Joe Ghartey led Committee after concluding its investigation concluded that the Bawku Central MP, Mahama Ayariga was in contempt of Parliament and recommended he apologise.

However, he rendered what some have described a conditional apology. Meanwhile, in the wake of the unending debate, a former Deputy Trade and Industry Minister under the erstwhile Mahama government, has hinted that, Muntaka Mohammed confirmed to the party's leadership that, a bribe was given hence, finds it worrying how the issue is being treated by the NDC. "It simply doesn't make sense.

What interest do you have to please somebody who is engaged in wrong? Whose interest will it serve and that there should be a political gerrymandering to impose leaders because people have an agenda either in 2016 or 2020? Let's get serious because that won't work," he lamented. He added "there isn't any division and this is not an attempt to undermine the leadership of the Minority.

It is to expose the NPP and the very people who are engaged in corrupt acts who have accused us of corruption throughout." But commenting on his [Murtala's] claims, Mahdi Gibril has questioned which member of the executive or executives met with the Minority and confirmation given on the allegation.
According to him, he was extremely disappointed and asked if he [Murtala] spoke on behalf of the national executive. ''The party NDC knows better than the only Murtala that we know.

The party is bigger and does things based on our structures. We don't do things just on radio.'' He said, Murtala is only speaking on radio. This is not the position of the party.''

When asked if he will not confirm or deny Murtala's statements he had this to say: ''Murtala's statement will not make me answer to his statement. What we [party] have said was that, Parliament was investigating the matter and we would state our position after they have presented their report. We will meet and look at what to do and see the way forward.'' He said, ''if Murtala feels we are giving up somebody, why has he not come to the party. The NDC party does not rush in taking a decision.''

Again when asked if Mahama Ayariga is going to be vindicated if the dust finally settles on the saga he responded saying, ''let's get there and when we get there, everybody will know the truth.'',

On whether Mahama Ayariga should apologise to Parliament, he said: ''that is a Parliamentary procedure and so let us get to that bridge.
Apologising to something does not mean that thing is untrue or false.''

The NDC he stressed do not have a problem on this saga rather, it is the current government led by President Nana Akufo-Addo who failed to deal with the issue holistically.

''Nana Addo should have waited for the investigation to conclude before confirming him as the Energy Minister. Someone who claims to be an anti-corruption campaigner, would have waited for the minister to finish with the investigation but failing to do that, raises serious issues.''