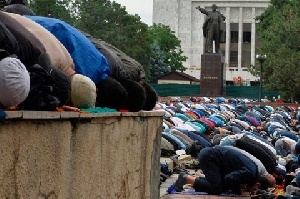 Muslims in the Ashiaman Metropolis on Friday celebrated the Eid-Ul-Fitr to mark the end of their 30 day Ramadan Fast.
Sheik Mustapha Harun Cisse, Ashaiman Chief Imam, who led the Muslims in the Eid Ul Fitr prayers at the Sakasaka Park in Ashaiman, urged the Muslims to continue to love each other and co-exist peacefully with their Christian neighbours.

Mr. Kojo Akuamoah Boateng, Ashiaman Municipal Coordinating Director, who represented the Municipal Chief Executive of Ashiaman, thanked Allah for the successful completion of the 30 days of fasting without any bad news in the Municipality.

Mr. Akuamoah however pleaded with the chief Imam to pray for the people of Ashiaman municipality to continue to live in peace and harmony and also continue to pray for all security personnel in the Municipality.

He advised the youth of Ashaiman to stay away from unacceptable behaviours, for the good name of the Municipality.
The Deputy Chief Imam ended the occasion by pleading with the Assembly to provide them with television coverage of their next Eid celebration.

At Lebanon School Junction in Ashaiman, the Chief Imam of Ashaiman Newtown Junction area, Sheik Hudu, who led the prayers, urged Muslims to be trustworthy to their neighbours because, "A real muslim with imaan (faith) is the one people trust the most,"

Some of the Muslims in Ashiaman and Lebanon expressed their happiness on how they had been able to complete the 30 day fast.