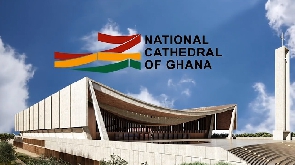 A donor to the National Cathedral of Ghana project has stated that he believes a donation he made saved the life of his son.
In a testimony shared by donor named Alexander Nii Kai Addison on the Cathedral's social media handles, read in part:

"I listened to Rev Dr Joyce Aryee on Oman FM speaking about the importance of Ghana's National Cathedral. I was touched and supported with a GHC100.00.

"A few days later, my son was attacked by armed robbers at gunpoint. To the Glory of God, my son was saved. I believe my GHC100.00 donation to support this project saved my son's life," the testimony added.
The Cathedral project is currently on hold due to lack of funding. It was the subject of massive controversy throughout 2022 when a lawmaker accused the Board of Trustees and secretariat of financial impropriety and corporate governance breaches.

blockquote class="twitter-tweet">
Meanwhile, it is very clear where the budget of the Ghanaian Police Service should be going... pic.twitter.com/hgI0gDiNut
— Bright Simons (@BBSimons)
March 2, 2023