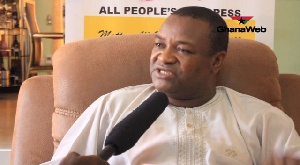 The flag bearer of the All People's Congress (APC), Hassan Ayariga, has denied claims by the Electoral Commission (EC) of Ghana that his doctorate degree is fake.
According to him, the university he obtained the degree form is a recognised institution in Spain, therefore, the EC could have verified before making such a claim.

His comments follow the decision of the EC to report him to the Criminal Investigations Department (CID) over a number of alleged crimes he is said to have committed in the filling of presidential nominations for the 2016 polls.

The EC said the APC leader, who was disqualified from contesting in the December 7 elections, among other infractions, obtained his doctorate degree from a non-existent or unrecognised institution.
The election management body added that it detected about 30 anomalies, some bordering on criminality, which required referring the APC leader's case to the CID for investigations.

But reacting to these claims in an interview with Chief Jerry Forson, host of Ghana Yensom on Accra100.5FM on Friday October 21, Mr Ayariga said: "This is a continuation of another lie. The EC will need to tread cautiously because I will make them unpopular in this country with all the facts. If you come out to say Dr Ayariga has a fake doctorate degree, do you have a copy of the degree (certificate) to know whether it is fake or not? You don't have a copy of my degree, how do you know whether my degree is fake or not?"

"As I speak to you, go online, look for Great Achievers University College and Seminary. It is in Spain. Search to see whether it will come out or not. And I will send you a copy of my degree and you can send it to the university to prove whether it is fake or not. That is another case I will sue them (EC) [over] in court. They should be very careful. There are laws in this country – don't come out and attack the integrity of somebody when your integrity is questionable."