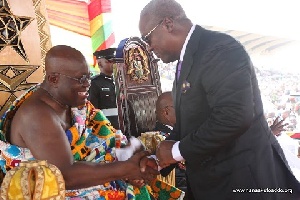 Former president John Dramani Mahama has served notice his appointees are ever ready to account for their stewardship in court.
He has therefore called on party faithful to throw their weight behind any appointee who may be hauled before court over allegations of corruption.

"Recently, President Akufo-Addo was threatening members of our administration with prosecution when he visited the Eastern Region and I said yes, we are prepared to accept the probity of our tenure in office," Mahama said at the 36th anniversary commemoration of the 31st December Revolution held in Ho in the Volta region on Sunday.

He added: "Having been the disciples of probity and accountability, we must not run away from probity and accountability, we must be prepared to face any prosecution that this government throws to us, but we must do this with commitment and solidarity.

"Solidarity with our colleagues who will fall foul of the law because the law says you are innocent until proven guilty by competence and justice of the court, and so we cannot pronounce our colleagues guilty on the basis of allegations by the NPP."

"They will have their day in court and until they have that day in court, it is our duty to solidarize with them to make sure they have the best legal representation to be able to put their case in order, and it is my wish that things will turn out well for them," Mahama prayed.

However, he has thrown a challenge to President Akufo-Addo to deal with corrupt officials within his government as a test case of his resolve to fight corruption.
"Let me point out that the easiest part in the fight against corruption is prosecuting your political opponent. It does not take courage, it does not take bravery to prosecute one's political opponent. The true test in the fight against corruption is holding your own people accountable when they go wrong… We must not pursue post regime accountability, we must pursue accountability while your regime exists," Mahama pointed out.

He noted that the principles of probity, accountability and social justice which underpinned the 31st December 1981 revolution cannot be lost on the NDC, as is an offspring junta.

He said even though the tenets of probity and accountability as practiced during the revolution era could differ from constitutional era, the party was well awake to its founding principle.

The event brought together the rank and file of the NDC as well as party stalwarts to reflect on the theme 'Uniting around the principles of Probity, accountability and social Justice.'

Mr. Mahama also used the opportunity to urge party faithful to commit to the reorganisation process of the party ahead of election 2020.