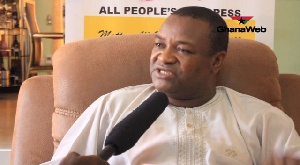 Disqualified presidential candidate of the All People's Congress (APC), Hassan Ayariga says had it not been his intervention, Ghanaians would have heard very bad news about the Electoral Commission (EC) and its Chairperson, Charlotte Osei.
The disgruntled politician told Fiifi Banson on Anopa Kasapa on Kasapa 102.5 FM, Thursday, that his party supporters had wanted to storm the offices of the EC and destroy anything they will come across including Madam Charlotte Osei moments after she announced his disqualification from the 2016 Presidential race.

"Look, I stopped people from going to the EC yesterday. I stopped lots of people. They would have shown her what the NDC and the NPP can do if she had disqualified John Mahama and Akufo-Addo that they can also do it if she disqualifies Hassan Ayariga. They were going to storm the whole EC and destroy everything there including herself. I am not lying to you, but for the peace of this country, I stopped them", he noted.

He further told Banson that had it not been he being a peaceful presidential candidate who believes in the rule of law, he would have allowed his supporters to challenge the decision of the EC and its Chairperson in whatever way or form.

"You see I am a peaceful presidential candidate and I believe in the rule of law. That is why I said look don't do it because your life is more important than Charlotte Osei. You are more important to me than Charlotte Osei and so don't do it. I had to beg and beg and pleaded with them."

Hassan Ayariga failed to make the list of qualified Presidential candidates even after a second opportunity was granted him and other presidential aspirants by an order of the Supreme Court.
He was part of 12 disqualified presidential aspirants who were ruled out of the upcoming polls after the EC identified various anomalies on their nomination forms.

Some of the aggrieved candidates including Ayariga proceeded to the High Court to challenge their disqualification following which they won a judgement.

The Electoral Commission appealed the decision of the High Court at the Supreme Court but lost the case.

The Supreme Court on Monday directed the EC to allow all disqualified candidates to correct mistakes on their nomination forms within 24 hours and re-submit them to the Commission.

But upon expiration of the deadline, the Chairperson of the EC, Charlotte Osei, Wednesday, announced that the commission was unable to accept Mr Ayariga's nomination forms and that of eight other candidates because they failed to meet the statutory requirements in C.I. 94.