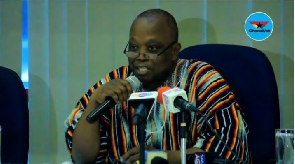 The Auditor-General Daniel Yao Domelevo has revealed it took his driver to stand in for him to obtain bail after he was invited for questioning by the Economic and Organised Crime Office (EOCO).
According to Mr. Domelovo, he was invited by the EOCO over some alleged procurement breaches that occurred in his outfit in 2018.

In a statement to the acting head of EOCO, the popular anti-corruption fighter said he is aware EOCO does not have the right to investigate procurement breaches.

"I was personally invited by a letter dated November 7, 2019 which invitation honoured out of respect for your office on 14. November, 2019 only to be cautioned by your officers and asked for a caution statement which I gave. I had had to be granted bail – thanks to my driver – before I was allowed to leave your premises," the auditor general disclosed.

The letter stressed: "A careful reading of your enabling law, the Economic and Organised Crime Act, 2010 (Act 804) as amended by the Office of Special Prosecutor Act, 2017 (Act959) and from discussions with my lawyers, I am of the firm belief that your office does not have the mandate to investigate any breaches under the public procurement Act. In fact, I am advised that the relevant provision in Act 959 which amended Act 804 is section 80 and therein, your office's mandate to investigate corruption and corruption related offenses, which has been defined to include procurement breach., has been taken away.
"Thus, this power your office purports to exercise now has been effectively taken away by the amendment contained in section 79 of Act 959. This clearly means that your office does not have the jurisdiction to investigate corruption related offences which has been defined in Act 959 to include breaches of the Public Procurement Act.".

The Auditor-General has had brashes with pressure group the Alliance for Accountable Governance (AFAG) over alleged breaches.

Earlier in the year, AFAG asked the Attorney-General to commence criminal investigations into the procurement breaches of the Auditor-General and take the necessary actions against him.