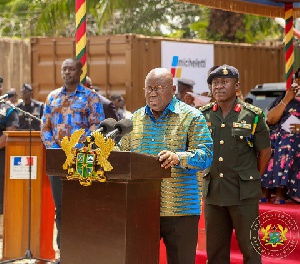 President of Ghana, Nana Addo Dankwah Akufo-Addo has promised to construct a bridge linking the Afram Plains to the Kwahu Range.
The bridge which is estimated to run into hundreds of millions of dollars was requested by the Kwahu Obomeng Manhene, Nana Effa Odiamang during this year's Easter festivities.

In his response, the President expressed his delight to have the bridge over the Volta River, which would be a monumental achievement by his Administration, when completed during his tenure.
"…I have seen a similar bridge in Korea and would like to have one done for us over the Volta River linking Kwahu and Afram Plains in my time" he said.