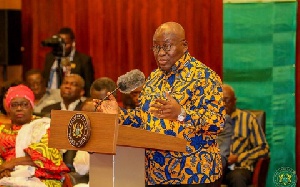 President Nana Akufo-Addo has assured the chiefs and people of Denkyira Obuasi [now New Obuasi] that his government will not punish them by denying the town of developmental projects following the gruesome killing of Major Maxwell Mahama by residents.
According to the President, irrespective of the fact the dastardly murder of the late army officer gave the country a bad name, innocent residents of Denkyira Obuasi must not suffer for the sins of others, hence the town will have its fair share of development.

Denkyira Obuasi made the headlines for the wrong reason some three months ago following the lynching murder of Major Maxwell Mahama by residents on suspicion he was an armed robber at a time the deceased had been posted to the area as detachment commander to fight illegal mining (galamsey).

President Akufo-Addo who visited the town on Monday as part of his 5-day tour of the Central and Western Region condemned the senseless killing of Major Mahama and warned the residents to let that unfortunate incident be the last time such despicable act will ever happen in the area.
He said while the courts are prosecuting the about 20 suspects who have been arrested in connection with the murder, the rest of the people must be catered for by the country.

"I was saddened by the killing of Major Mahama, I never thought such an incident will ever occur during my tenure of office, but God does what he wills. Let this be the last time we're seeing such event in our country. The suspects will be dealt with according to the law, but the rest of you are Ghanaians and I've come to encourage you that beyond the unfortunate incident, my government will never forget you. You'll also enjoy all the good policies and programmes that have been put together by my government," President Akufo-Addo said.