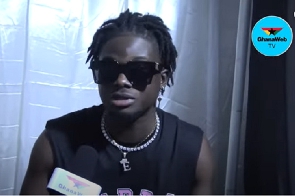 Award-winning musician, Kuami Eugene, has said that he worries about losing the fame he has gained in the last few years.
Speaking on the Doreen Avio show, the performer described a specific situation in which he would be shaken if ignored.

According to him, if he woke up one morning and went to the Accra Mall and no one said hello, he would question why he was being ignored.

"My greatest fear is to wake up one morning and realise I'm not this rockstar. Imagine I wake up and go to the mall, and nobody says 'Rockstar.' I will ask myself if I didn't sleep well.

"I mean, I get people asking me, don't you get tired when people are on your leg everywhere? You don't get to come to stand in a queue like us anymore, and I tell them it's my job," he said.
Kuami Eugene's interview comes after, he indicated on Instagram on January 12, 2023, that wealth consists of not having great possessions but having few wants.

Meanwhile, the image that the artiste shared along with his post, attracted a lot of attention from certain online users, who pointed out that he looked fantastic after gaining a little weight.



ADA/DA