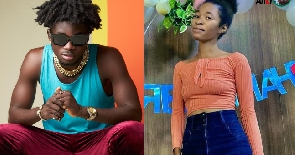 Ghanaian highlife singer Kuami Eugene has explained his current relationship with his house help, Mary, whom he usually flaunts online.
Social media has witnessed the strong rapport that exists between the singer and his house help in several instances and this has somewhat sparked concerns among netizens.

Some netizens have even alleged that Eugene and his house help could be having a sexual affair.

But reacting to the claims in an interview with Delay, 'The Rockstar' has emphasized that nothing of that sort can happen.

According to him, they have outlined strict boundaries for each other in the house.

"It will never happen. I respect myself so much so it won't happen. Mark my words. We have set boundaries for ourselves and I am even not home mostly. I see Mary to be my relative even though we hail from different places. Mary has a good rapport with my mother. My mother always reminds her that she is the one taking care of me," he told Delay.
As the conversation went on, Kuami Eugene disclosed that Mary was introduced to him by his current girlfriend.

"The one who brought Mary to me felt is someone who felt it isn't safe for me to live alone. I used to live with only dogs in my house. My current girlfriend brought her to me," he added.

A confused Delay asked, "So your girlfriend brought her to you and she has assumed the seat as the Madam of the house, right? But I thought you granted an interview two weeks ago saying that you don't have a girlfriend?"

Kuame Eugene replied, "We are the type that often break up and come back together."

Delay further queried, "So did she bring Mary to you as a bodyguard?"
Eugene replied, "No, she didn't, she brought her to me as a helper."



Watch the video below:



EB/BB