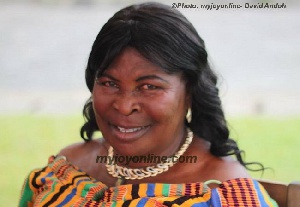 The Founder and Leader of the Ghana Freedom Party (GFP), Madam Akua Donkor has said her life has been in danger ever since President Akufo-Addo assumed power.
According to the farmer turned politician who has been described by some political watchers as a comic relief in Ghanaian politics, the level of the President's hatred for her, has left her very worried as she fears she could lose her life.

Madam Akua Donkor further stated that President Akufo-Addo's ill-feeling towards her is so intense that he's asked the State Protocol Department not to invite her to state functions, just as she was left out of the country's 60th Independence anniversary celebration in Accra.

Ghana marked six decades after her independence on Monday, 6th March, with a colourful parade by personnel of the security services and school children and other cultural displays, witnessed by thousands of Ghanaians and foreign invited guests.
Several political party founders and former Presidential candidates including the PNC's Dr Edward Mahama, CPP's Ivor Greenstreet, IPP's Kofi Akpaloo, UFP's Kwesi Addai Odike, and GCPP's Dr Henry Lartey were present at the event. Conspicuously absent was Madam Akua Donkor.

Speaking on Anopa Kasapa on Kasapa FM, Madam Akua Donkor who once featured prominently at state functions during ex-President John Mahama's reign whom she described as her son, and actually travelled with him abroad, stated that she now prefers to stay out of such public functions in order to save her life.

"President Akufo-Addo hates me, he doesn't want to see me anywhere he goes. But once the elections are over he should learn to treat everyone equally…whether they voted for him or not. During his inauguration I was not invited, the same thing happened during his presentation of the state of the Nation address recently and the latest is the independence day celebration in Accra. What sort of wrong have I done to the President to be treated this way," Akua Donkor fumed.