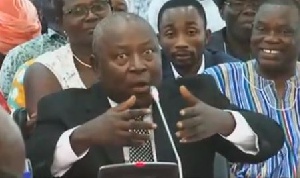 Nominee for the Special Prosecutor Office, Martin Alamisi Burnes Kaiser Amidu, has explained the reason behind his resignation from the erstwhile Atta Mills administration, adding that the decision was based on breach of trust and not insubordination as reported.
Mr. Amidu, was the Attorney General and Minister for Justice under the late Atta Mills administration. Martin Amidu was reportedly sacked after showing gross insubordination towards the late President.

In an interview with Ekourba Gyasi on Atinka AM Drive in January, General Secretary of the opposition NDC, Johnson Asiedu Nketia stated that, Martin Lamisi Amidu was dismissed as Attorney General under the Mills administration for defying and refusing to obey the command of the then President.
However, speaking to the Appointments Committee in Parliament during his vetting as the special prosecutor nominee, Mr. Amidu stated that, he offered to resign after a misunderstanding and wasn't sacked as widely reported.

"Mr. Chairman, I can assure you that I was not dismissed for insubordination…there is a court judgement that stated that my dismissal was unlawful," he said.