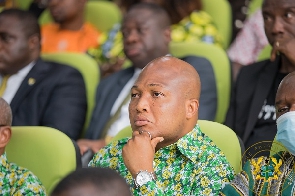 Member of Parliament for North Tongu, Okudzeto Ablakwa has said that claims that he is fighting the building of the National Cathedral because he has no belief and faith in God is unheard of.
He insists he still holds on to his Christian faith and believes in the existence of God but will not sit aloof whiles the President and other people steal from the people of Ghana in the name of God.

Samuel Okudzeto Ablakwa was speaking to Accra-based OKAY FM when he made this known.

"They say I'm Sambalat, they say I am an anti-Christ, they say it's now warfare and they call me other names but I want to place it on record that I'm still called Samuel. I've not changed my name, Samuel which means God has heard you," he said.
He continued "Let's put the issues in perspective. If the President of Ghana, Nana Akufo-Addo had done a public broadcast and told the people of Ghana that he was going to use their taxes to build the National Cathedral and it had gone to Parliament for it to be debated as a national project where we can have a collective buy-in.

"The way this project has become an iconic symbol of controversy, diversion, corruption, conflict of interest and double identity would not have been the case," he said.