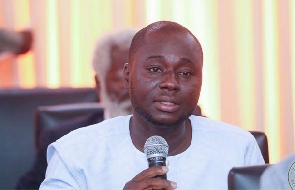 Atik Mohammed has expressed doubts over the feasibility of the Nation Builders Corps (NABCO), a government initiative to empower the youth and create employment opportunities.
The Nation Builders Corps has been launched by government as part of its measures to bridge the gap between the employed and unemployed in the country.

Under this policy, One hundred thousand (100,000) young men and women are to be employed this year to assist in the public sector service delivery needs of Ghana.

According to President Akufo-Addo, "NABCO will be the vehicle to deliver one hundred thousand (100,000) jobs in seven (7) prioritized areas, defined as the following modules: Educate Ghana; Heal Ghana; Feed Ghana; Revenue Ghana; Digitize Ghana; Enterprise Ghana; and Civic Ghana."

But commenting on the policy, Atik Mohammed believes NABCO is not sustainable since the project is only for 3 years.

He wondered why the government is commending herself for such intervention when it is only a temporary relief to the youth.
He questioned the government about the fate of future generations when the project will come to an end or a halt after 3 years.

To Atik, NABCO is a deliberate attempt by the NPP to "build an election weapon so that, in 2020, there will be reference that we brought NABCO. It was meant to create jobs; meanwhile what you're doing is not job creation . . . It's a political weapon fashioned for the battles of 2020 and nothing beyond. And it's so sad that we're going to lose money. We're going to burden our public purse in the process".