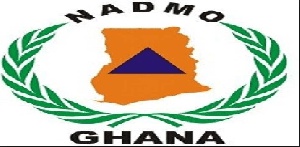 Thu, 27 Sep 2018 Source: Kwabena Danso-Dapaah
The Ashanti Regional National Disaster Management Organization (NADMO) Coordinator, Mr. Kwabena Nsenkyire believes the only way to save the government from another disgraceful act following reports of distribution of expired food products to disaster victims by the government is to sack all staff.
"Persons who were employed under Mills/Mahama administration because of their membership to NDC are still at post while we NPP in power has not employed a single person. The NDC people are doing everything humanly possible to run this government down", he observed.

According to him, the recent expired food items supplied by Vice president Dr. Mahamudu Bawumia to flood victims in the Upper West Region was engineered by some hands royalists to the opposition National Democratic Congress (NDC) who are still managing offices of NADMO across the country.

"We need financial clearance from the Auditor General to employ NPP members to take charge of all these food products" the Ashanti Regional First Vice Chairman of the ruling NPP told journalists in Kumasi following the suspension Ali Sulemana as the Upper West Regional stores manager of NADMO

"If we have our own people managing the various NADMO offices, this couldn't have happened", Mr. Kwabena Nsenkyire who is the Dean for all the ten Regional Coordinators stated.
Ali Sulemana has been suspended indefinitely after expired food items were distributed to flood victims over at the weekend while the Organisation's regional coordinator, Seidu Issahaku Sulemana, has also been queried over the incident.

A three-member committee has also been instituted to investigate the facts about the incident that appears to have embarrassed Vice President Dr Mahamadu Bawumia who visited the region to release the items to the affected communities and individuals.

The committee is expected to submit its report within 14 days
Source: Kwabena Danso-Dapaah