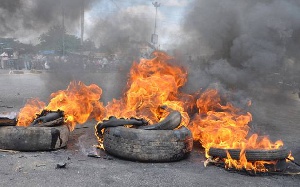 A press release by the National Disaster Management Organization (NADMO) has cautioned Ghanaians, specifically New Year celebrants, against the burning of used tyres.
The act, over the years has been associated with the superstitious belief that the fumes will drive away evil forces that worked against them the previous year.

The press release, signed by the Director General of NADMO, Eric Nana Agyeman-Prempeh, reiterated the environmental repercussions of the practice as well as its health implications.

The general public was also encouraged to work hard towards attaining the prosperity and success they seek.

Below is the press release:

NADMO CAUTIONS NEW YEAR CELEBRANTS AGAINST BURNING USED TYRES
Gradually the year 2017 has almost come to an end as we bid it farewell tonight with various activities.

We want to thank all Ghanaians, especially our clients and partners in the critical assignment of preventing and managing disasters in the country.

It has been observed, over the years, that among the various activities New Year celebrants usually engage in, the burning of used tyres along our roads.

They carry out this environmentally unfriendly activity under the superstitious belief of driving away the evil forces that militated against their progress and prosperity in the previous year.

This practice is very inimical to our environment as well as human health in view of the release of dangerous toxic waste into the atmosphere. It also has dangerous ramifications for our bituminous roads that are constructed with the nation's scarce resources.
The National Disaster Management Organization is therefore cautioning all and sundry, especially New Year revelers, to stay away from this dangerous practice.

We want to encourage all to work hard with determination wherever they find themselves as that is the surest way to guarantee progress and prosperity.

.....Signed.....

Eric Nana Agyeman-Prempeh