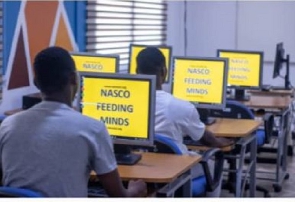 The NASCO Feeding Minds organization in partnership with some alumni of the University of Ghana have commissioned an ultra-modern ICT learning centre on the campus of the premier university to aid students in their research and other academic activities.
The commission exercise which was themed; commissioning of the J.R. A Ayee ICT Centre and the K.Boafo-Arthur E-learning Centre was fully sponsored by NASCO Feeding Minds under the leadership of Seidu Nuhu Barnasco.

Seidu Nuhu Barnasco, the Co-Founder and CEO of NASCO Feeding Minds spoke during the commissioning exercise and said that the organization in partnership with some old students of the university decided to support the educational facility with a renovated ICT lab.

"For the past ten years, NASCO feeding minds has established sixteen computer centres, so coming to the university of Ghana, it's refreshing for us because it grants us an opportunity to contribute to the university's vision of becoming a world-class university and also promotes the digitization agenda of the university.

"For us, is also another leverage for us to augment government efforts in providing good quality education to our graduates.

"Especially, now that the current government is promoting the digitalization of the economy, we think that it is important to train the necessary human resources needed that will fit into this government policy and agenda. So, we donated 40 desktop computers and 15 laptops to the department," he said.

He continued by saying that as part of the government's digitization agenda, they also wanted to contribute their fair share by supporting the university with an ICT laboratory.
The program was graced by the Pro Vice-Chancellor of the university, Professor Gordon Awandare, Head of the political science department Dr Seidu Alidu among

others.