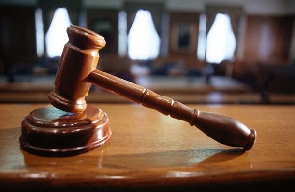 The Commercial High Court presided over by Justice Eric Kyei Baffour has stayed proceedings in the case against the Board Chairman of the National Communication Authority Eugene Baffoe Bonnie to allow the Supreme Court to give its interpretation to Article 19 clause (e) and (g).
The decision was as a result of a motion by Defense lawyers seeking to compel the Attorney Generals Department to disclose to them all documents the prosecution intends to rely on throughout the trial as well as a comprehensive list of all prosecution witnesses they plan to call in support of the State's case brought against Mr. Baffoe Bonnie and four others, for wilfully causing financial loss to the State to the tune of 4 million dollars.

Constitutional Provisions

Article 19 (2) (e) and (g) of the 1992 Constitution Requiring interpretation at the Supreme Court states as follows:

(2) A person charged with a criminal offence shall –

(e) be given adequate time and facilities for the preparation of this defence;
(g) be afforded facilities to examine, in person or by his lawyer, the witnesses called by the prosecution before the court, and to obtain the attendance and carry out the examination of witnesses to testify on the same conditions as those applicable to witnesses called by the prosecution.

In his ruling Justice Kyei Baffour stated that there is no mandatory requirement in summary trials on the prosecution to provide the defense team with documents they intend to rely on before the trial.

On the demand by the defense team to be given documents to be tendered in court three days before it is tendered, the court stated that any such declaration by the court will amount to the court being prejudicial. The court therefore dismissed the prayer by the defense lawyers.

Justice Kyei Baffour stated that the demand for a stay of proceedings at the Commercial Court and to refer to the Supreme Court for the interpretation of article 19 (e) and (g) is a call in the right direction.

According to Justice Kyei Baffour, both sides have taken rival positions on the constitutional provision and that clearly indicated that there is a need for the Supreme Court to give its interpretation.