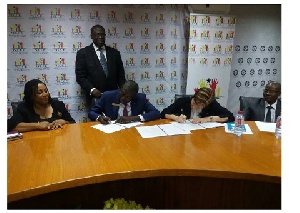 Junior Chamber International (JCI) Ghana and the National Commission for Civic Education (NCCE) have signed a Memorandum of Understanding (MOU) to collaborate for the implementation and promotion of a National Active Citizens Campaign among the youth in Ghana.
The National Commission for Civic Education is an independent, non-partisan governance institution, set up under Article 231 of the 1992 Constitution of the Republic of Ghana. The Commission was established in 1993 under the National Commission for Civic Education Act, 1993 (Act 452).

Among the functions of the Commission as mandated under Act 452 is to formulate, implement and oversee programmes intended to inculcate in the citizens of Ghana awareness of their civic responsibilities and an appreciation of their rights and obligations as free people.

The National Active Citizens Campaign will be implemented through a 10 year National Volunteering Strategy facilitated by JCI Ghana working with multiple stakeholders including the National Commission for Civic Education, Ministry of Youth and Sports, National Youth Authority, Ghana Chamber of Commerce and Industry and Volunteer Infrastructure National Planning Committee amongst others.

The 10 year national volunteering strategy has been developed as a tool for building social capital; contributing to social cohesion, solidarity and patriotism; providing valuable economic benefits to society; and enabling individuals to realize their potentials as Ghanaians whilst recognizing volunteers for their contributions to national development.

The NCCE Annual Citizenship Week flagship programmes and platforms that aims to contribute to building and maintaining Ghana's democratic society would be other measures used to ensure the campaign is driven to the grassroots.
Some of the key highlights of the Memorandum of Understanding (MOU) include;

A. Undertaking capacity building workshops on active citizenship among all stakeholders using the JCI Active Citizens Framework

B. Working together towards strengthening Ghana's democracy in the following two thematic areas of the NCCE

I. Education on Sustainable Management of the Environment

II. Promoting Peace building and Conflict Resolution
Junior Chamber International (JCI) Ghana is a Non-Governmental Organization with a mission to provide development opportunities that empower young people to create positive change and a vision to be the leading global network of young active citizens.

JCI Ghana is affiliated to Junior Chamber International (JCI),- a worldwide organization of Young Active Citizens who share the belief that in order to create positive change, there is the need to take collective action to improve ourselves and the world around us.

With over 5,000 Local Organizations in more than 115 countries and territories, JCI forms a vibrant international network with nearly 200,000 members.