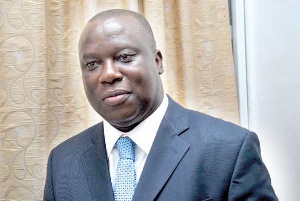 Mr Abraham Odonkor, newly elected Vice Chairman for the Tema East Constituency Branch of the opposition National Democratic Congress (NDC), has thrown his support for Mr Joseph Kobina Ade Coker for the position of Greater Accra regional Chairman.
"Across the region, Chairman Ade is respected for his sense of duty and that sense of duty is needed more, now that we are in opposition. All of us in the region, especially executives of the party are looking forward to receiving strategies from our Chairman again.

Mr Odonkor who was speaking to the Ghana News Agency after their swearing-in programme in Accra said he had a track record that would catapult the party into victory in 2020 general election.

"I don't know what he has decided to do, but what I am saying is that Chairman Ade Coker has no permission to abandon Greater Accra NDC now that we are in opposition. He must run for Chairman again," Mr. Odonkor said.

According to the Tema East Constituency Vice Chairman the desire for Ade Coker to lead Greater Accra NDC again is widespread within the party because he is comparatively seen as a non-tribalist.

Incidentally, his investiture, along with his colleague executives, had been conducted by Chairman Ade Coker, who had led an entourage of executives around the region to swear in newly elected executives.
"Chairman Ade has come up for praise following a successful Constituency election in his region of jurisdiction, Greater Accra. Unfortunately, the smooth results that he clocked in the internal party contest was the direct opposite of what he got from the 2016 election in which the NDC lost many seats to the ruling NPP."

However, Abraham Odonkor who was confronted with this fact by journalists parried it off easily. "Name one region in this country which did not fall to the NPP in 2016," he demanded.

He pointed out that the NPP had won the 2016 election through grandiloquent promises that all Ghanaians, unwittingly fell for.

"Now that Ghanaians have seen the true colours of the NPP, we are all wiser and poised to rectify things in 2020," Abraham Odonkor said.

He said what made Ade Coker indispensable for Greater Accra, was qualities such as generosity and selflessness and pointed out that, as a businessman, Ade Coker spent a lot of his personal money to fund party projects and helped party members out.
The incumbent Greater Accra regional Chairman, he said, knew the terrain of the region well and was in a better position than anyone else to effectively lead the NDC to recapture its dominance in the region.

"What even makes many people comfortable with him is that he does not do politics of tribalism," he said.

He said Ade Coker had good rapport with the rank and file of the party in the region and appealed to the incumbent Chairman to pick up forms and put himself out for re-election when the NDC opens nomination for regional executives' elections on 16th July, 2018.

Mr. Philip Yankey, Executive Member of Tema East NDC, was also full of praise for Chairman Ade Coker for his good works and urged constituency executives across the region to encourage him to contest again for the Regional Chair.

"comments by delegates from various constituencies including; indigenous Accra, Dangme East and West suggest that Mr. Ade Coker is the best for the Regional Chair and should be allowed to keep the ball rolling or continue" Mr. Yankey said.