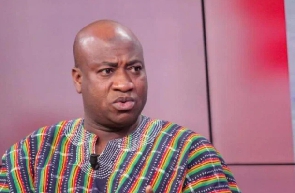 Ibrahim Murtala Mohammed, the Member of Parliament for Tamale Central has apologized to the Special Prosecutor Kissi Agyebeng after falsely accusing him of possible corruption on live TV.
His accusation was centered around the status of the current residence of the anti-corruption czar, as to whether or not he had built the residence located at Agbogba before or after his appointment to the post in 2021.

Murtala whiles speaking on Metro TV's Good Morning Ghana programme last week asked amog others that, "did he build that house before or after he was appointed the Special Prosecutor and did he encroach on a portion of a plot of a woman behind his house?"

"If he built the house after his appointment, I will want him to be investigated, he is not above the law, not even the president is. How did he come by that, it doesn't mean that he does not have the means but investigations will settle it," he submitted.

But in another interview to Metro News, he clarified that he had been informed that the SP had built the house before his appointment and that his claims were incorrect.

"I was making statements to the effect that I drove around Agbogba, North Legon and I saw a very beautiful mansion and there were lots of police and military men in that mansion so I wanted to find out who owns it.

"After the programme, I had a lot of calls and it appears that he built the house before the appointment, that is, before he was made the Special Prosecutor," he said.
"If that is a fact, then I have to apologize unreservedly to him, I never made the statement with any ill motive but I feel it is important that he clears that… based on the information I have gotten, it is fair that I state again that it appears he built the house before he was appointed Special Prosecutor and if that is the case, I would have to unreservedly apologize to him," he stressed.

Agyebeng prior to becoming the SP was a lead lawyer with Accra-based firm, Cromwell Gray LLP and was also a criminal law lecturer at the University of Ghana.

He became SP after the first occupant of the office, Martin Amidu resigned citing lack of support from the government. Agyebeng has in recent weeks reechoed similar challenges that Amidu complained of.



SARA