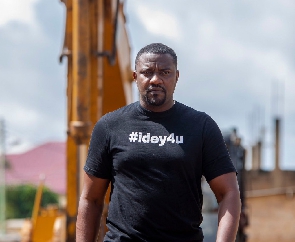 Actor cum politician, John Dumelo, has stated that the governing New Patriotic Party (NPP) must be ready for stiff competition in the 2024 elections.
John Dumelo in 2020, lost the parliamentary elections to Lydia Alhassan of the New Patriotic Party during the general elections.

But the actor has vowed that he will put in double the efforts which will earn him an outright victory in 2024.

"Election is a process and not an event and so inasmuch as we haven't conducted our elections yet, in terms of the parliamentary, work has started. Work started a year, 2 years ago to win the 2024 election. Choosing a parliamentary candidate is just an event; it's just a formality but we have started work and we are very confident that with every preparation we did and doing, we going to win the seat. In 2020, I matched Lydia boot for boot; 2024 it's going to be times two of what I did because Ayawaso West is a very complex area, it's a very complex seat," he said in an interview with JoyNews.

John Dumelo, who is also in the contest with colleague actor Fred Nuamah for the NDC Ayawaso West Wuogon parliamentary candidature, has said his one-time best friend will lose the primaries.

According to Dumelo, his confidence stems from the clamour by people in the constituency for him to come back to continue his good work after he lost to the incumbent MP, Lydia Alhassan.

"At this point in time, we want unity, at this point in time, we want to win the Ayawaso West Wuogon seat. And at this point in time, I'm confident that even if elections were held in Ayawaso Wuogon in terms of the parliamentary, I mean I will win hands down."
"You the delegates saying it, even the voters who voted in 2020 saying that 'John, if you don't come and contest and if you are not the parliamentary candidate in Ayawaso West in 2024 we are definitely taking our votes out because we registered because of you and we are going to vote because of you and so I'm vey confident that 2024 we can definitely win."

He added, "2020, we came close. Some people say we won it but it was stolen. 2024 is not about coming close. We are definitely winning this seat and that is what everybody else is saying. We're going to be extra vigilant. I definitely know and I'm confident that in 2024, I will win the seat for NDC in Ayawaso West Wuogon."

On how he would grab the seat for the NDC, Dumelo noted that he has put preparations in place to compete "boot-for-boot" with the NPP candidate, adding that he and his team had fixed the irregularities that had caused him to lose.

"We've done our research, we've done our analysis. We know where we went wrong, we know how to correct our mistakes, we know how to correct our 'i' and cross our 'ts' and we are confident that we are going to match the NPP in Ayawaso West Wuogon boot for boot and we'll win."

FNOQ