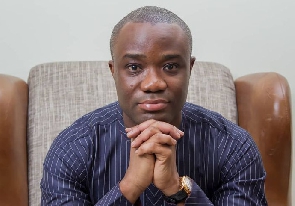 Former Deputy Information Minister for the NDC, Felix Kwakye Ofosu has agreed with calls for former President John Dramani Mahama to go unopposed in the party's upcoming presidential elections.
According to Mr. Ofosu who is an aide of the former president, allowing John Mahama to go unopposed in the NDC's upcoming primary elections will save the party's resources and time.

He said a competition is one that he welcomed as far as anybody who has observed its processes can testify, such that in the same vein nobody is disadvantaged in any shape or form.

"The rules are that anyone can contest for the position as far as the person is interested because it is an open contest, but if anybody believes that the outcome of the contest is already known, we shouldn't waste time and resources," he said

John Dramani Mahama made his intentions known to compete in the NDC's flagbearership when he met with the Minority caucus at his cantonment office on Tuesday.
His nomination forms were picked up by his former campaign manager, Joshua Alabi, and other executives of the NDC on his behalf.

The NDC opened its nominations on Tuesday, February 22, to kick start its internal elections to elect the presidential and parliamentary candidates for the NDC primaries slated for May 13, 2022.

Interested persons for the parliamentary primaries can pick the nomination forms at a non-refundable fee of GHC 5,000 while candidates for the presidential primaries will pick forms at a non-refundable fee of GH¢30,000 to be paid via banker's draft.

Interested female candidates and persons with disabilities (PWDs) will however pay 50% of the approved fee for both presidential and parliamentary primaries.