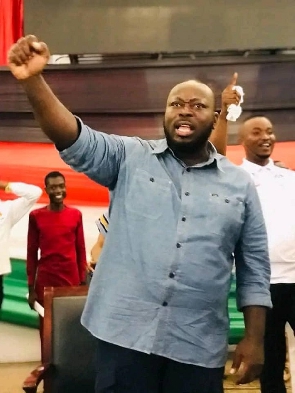 The National Youth Organizer of the Nantional Democratic Congress, (NDC), George Opare Addo has hit back at the police for prosecuting "young party faithfuls" as vigilantes.
While describing that as "unfortunate" Opare said though there were some confrontations at the National Youth and Women Wing Congress in Cape Coast on November 10, he wondered if that was enough to warrant prosecution.

Speaking to EIB Network's Legal Affairs Correspondent, Murtala Inusah, after appearing in court for the first time in the case in which some three persons were charged following the disturbances in Cape Coast, the National Youth Organizer said he has confidence in the judiciary and the accused persons would be acquitted and discharged.

"As it stands, we still don't know who the complainant in this matter is," Opare Addo stated.

"We agreed some confrontation happened but is it enough to warrant prosecution? I believe that our lawyers will do a good job and everybody who has been associated with this prosecution in one way or the other would be left off the hook," the NDC Oganiser noted.
He said, "to charge young party faithfuls as vigilantes is a bit unfortunate and I know that the police will have a very long order establishing that claims of calling party faithfuls vigilantes."

"…And I am very confident in the judiciary and I very much believed that everybody who has been accused falsely would be acquitted and discharged.

"These are party faithfuls two of them are branches youth organizers. I know them as party faithfuls I don't know them as vigilantes," Opare Addo noted.