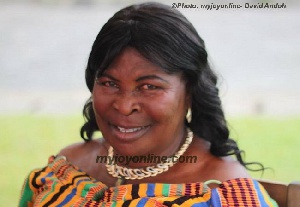 Failed presidential candidate and hopeful 2020 presidential candidate Akua Donkor says the two popular political parties in the country which are the National Democratic Congress (NDC) and New Patriotic Party (NPP) cannot be compared to her Ghana Freedom Party.
According to Akua Donkor, the founders of these largest political parties started their leadership ambitions through coups before becoming Presidents by overthrowing constitutionally elected Presidents.

She went on to say though she is an illiterate she has been able to go through all the genuine process in forming a political party in the country but same can't be said about the NDC and NPP.

Citing an example to back her claims, she stated that fmr. President Jerry John Rawlings of the NDC came to power through a coup and Edward Akufo-Addo who also happens to be the father of the current President Nana Akuffo Addo also came to power after the overthrew Kwame Nkrumah's government.

'My achievement is remarkable, few men have been able to do this, my party is bigger and more recognized by law than NDC, NPP because Ghana's former Presidents such as Edward Akufo-Addo, the father of President Akufo-Addo, Jerry John Rawlings assumed office through coups, they didn't go through any hustle of signing documents to form political parties as I did,' she pointed out in an interview with Abusua FM.

She also threw a jab at former first lady Nana Konadu Agyemang Rawlings saying even though they are both women and have political parties, her party is still vibrant unlike Nana Konadu's National Democratic Party (NDP) which is still trying to find its feet.
She also blamed Nana Akuffo Addo for failing to use her as an example of women who have been able to achieve something when he was at the Women Deliver 2019 Conference in Vancouver, Canada.

"We are not seeing enough dynamism and activism on the part of those who are seeking. I am talking about dynamism where it matters…electing people to Parliament, controlling political parties because they are the instruments by which our societies make decisions.

"We are talking about decisions, not wishes and hopes, we are talking about decisions that are going to make the difference," President Akufo-Addo said.

But Madam Akua Donkor said President Akufo-Addo should have been proud about the successes she has chalked in the political space by citing her as an example during his speech because her party is more popular than all the political parties in the country.