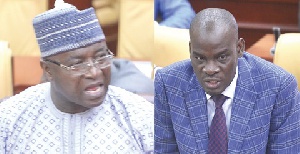 Although they go about claiming that the New Patriotic Party (NPP) government is witch-hunting them politically, some bigwigs of the opposition National Democratic Congress (NDC) have been caught begging President Nana Addo Dankwa Akufo-Addo to drop the double salary case against their Members of Parliament (MP) and former ministers.
Majority leader and Minister for Parliamentary Affairs, Osei Kyei-Mensah Bonsu, threw the bombshell on Tuesday when he said his minority counterpart, Haruna Iddrisu, persuaded President Akufo-Addo to intervene in the double salary scandal that has rocked appointees of the erstwhile NDC government, most of who are sitting MPs.

According to the majority leader, Haruna told President Akufo-Addo that if the police continue the investigation into the matter, it would bring the name of parliament into disrepute.

Some of the ex-appointees are said to have conceded that indeed they were paid double and looking for the opportunity to refund the moneys.

The double salary scandal appears to have rattled the opposition NDC whose MPs – past and present – have been visiting the police CID headquarters to assist in investigations over their supposed involvement in the scandal.

Bombshell

"The minority leader has spoken to the president that some intervention must be done in order to save the image of Parliament," Mr Osei Kyei-Mensah Bonsu confirmed on Joy FM Tuesday.

He said specifically that the minority leader feared that "these things (double salary issues) will dent and further inflict the mortal wound on parliament."
Mr Osei Kyei-Mensah Bonsu said the leadership of parliament wanted to handle the matter in camera but some NDC MPs breached protocol by going public with witch-hunting accusation against the New Patriotic Party (NPP) government.

"I am not involved but I must admit as a Member of Parliament, if a colleague is involved in something it affects all of us. Remember when one person went and dealt in drugs, the whole of the then-majority group, including the Parliament of Ghana, was roped into it. If it affects an MP it affects the integrity of all of us. That is why we are trying a good way out of it," he said.



New Batch

Yesterday, another batch of former ministers took their turn at the interrogation room of the CID to be grilled over their alleged involvement in the double salary saga.

They were Fifi Fiavi Kwetey, a former minister of transport and MP for Ketu South; Abdul Rashid Hassan Pelpuo, former minister of state and MP for Wa Central and Aquinas Tawiah Quansah, former Central Regional Minister and former MP for Mfantseman West.

They were reportedly cautioned with a charge of stealing and are to reappear before the CID in May.
The former NDC appointees are being accused of taking double salaries as ministers and MPs while serving in government under President John Mahama.

The minority leader, Haruna Iddrisu, is also expected to appear before the CID today.

They appeared individually with their lawyers at the CID headquarters in Accra and after writing their statements, they were said to have been subjected to questioning before they were granted police enquiry bail.



Self Enquiry Bail

Already, Emmanuel Armah-Kofi Buah, MP for Ellembelle and former Minister of Energy and Petroleum and Nii Laryea Afotey Agbo, MP for Kpone Katamanso, the former Greater Accra Regional Minister, have been interrogated by the police and granted self enquiry bail.

Also, a certain Bashir Fuseini Alhassan – who is believed to be ABA Fuseini – NDC MP for Sagnerigu and former deputy minister for the Northern Region, was there at the weekend and was made to write a statement before being admitted to bail.
On Tuesday, three former appointees under President Mahama – Minister of State in-Charge of Social and Allied Institutions, Comfort Doyoe Cudjoe Ghansah, MP for Ada East; second deputy minority chief whip, Eric Opoku, MP for Asunafo South and Brong-Ahafo Regional Minister and Alhaji Inusah Fuseini, MP for Tamale Central and Minister of Roads and Highways, were also grilled.

'Narrow' And 'Broad'

In the ensuing heat, Mr Haruna Iddrisu, who is believed to be among the former appointees who allegedly took double salaries, has offered to give both what he calls 'narrow' and 'broad' interpretations of the matter.

Mr. Iddrisu, NDC MP for Tamale South and former Minister of Employment and Labour Relations – who is scheduled to appear before the CID on Thursday (today) – told Joy FM on Tuesday that if the issue was viewed 'narrowly' the affected MPs could be said to have taken double salaries, "but that should not be the case."

He said rather the police should conduct a holistic investigation into the matter and that would point to discrepancies which would not warrant criminalization of the matter.

Using Article 71 for his explanation, the former minister of employment and labour relations said the issue of double salary will hold if only "current ministers and MPs will not tomorrow accept any addition to what is being paid them today as salary advance."


He noted, "That will be interesting and intriguing for us as a Republic. It means tomorrow when President Nana Akufo-Addo finally sets up this committee (Emoluments Committee), the committee will make recommendations, which will in most instances occasion them receiving salary arrears which will affect even payment of their gratuity and ex-gratia.

"So viewed narrowly you can say that ministers of state and MPs are involved in double claims."

Specific Charge

The Criminal Investigations Department has said officially that the alleged double salaries saga "is contrary to Section 124 (1) of the Criminal and other Offences Act 1960 (Act 29) as amended in 2012 (Act 849). Section 124 relates to the offence of stealing."

The list appears to show that a good number of the former ministers took double salaries for four years, whilst others received them for two and three years, probably because they were reshuffled.