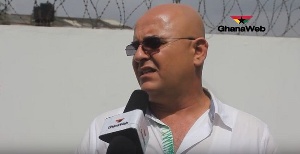 Journalist, author and fierce critic of the opposition National Democratic Congress (NDC), Fadi Dabbousi has described the National Headquarters of the umbrella family as a chop bar.
He expressed an opinion that, people who have joined the NDC lack sense and logical reasoning because the party is filled with loose talkers, corrupt persons and incompetent people who only thrive on pettiness and negativity.

The journalist, who was arrested under former President John Dramani Mahama for publishing denigrating articles about him, slammed the former president and his brother, Ibrahim Mahama for stealing from the state.

According to him, it made no sense for Ibrahim Mahama to be working a free man after issuing dud cheques.

He further alleged that the NDC deliberately contaminated the fuel at BOST which has become a controversial saga.

Mr. Dabbousi said, the new MD Alfred Obeng, who he earlier called for his resignation is clean and the NDC are bent on tarnishing his image.
In his view, the NDC corrupted the system and are only engaging in pettiness to conceal their rot.

He has charged President Akufo-Addo to take immediate steps to sack persons he believes are NDC men because they are bent on stalling the change agenda.

He said, if Nana Addo cannot sack them, he should transfer them so they don't frustrate him in achieving the promises he made to Ghanaians.

The NPP he concluded will restore Ghana to a point where corruption will no longer be tolerated.