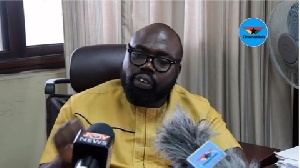 The National Democratic Congress (NDC) has stated emphatically that it had no hand in the attack on the South Odorkor branch of the Glorious Word and Power Ministry last Wednesday.
The head pastor, Rev Isaac Owusu Bempah, has since accused the opposition party of being behind the vandalism against his church.

Some youth said to be Muslims stormed his church premises to vandalise property following his prophecy about the death of some prominent Islamic figures including the Chief Imam and the Vice President, Alhaji Mahamudu Bawumia.

NDC commends youth who destroyed Owusu Bempah's property

But Rev Owusu Bempah in a radio interview said the youth were instigated by the NDC.

"These are fertile but unholy imaginations of Rev Owusu Bempah," the NDC rejected in a statement signed by a Deputy General Secretary, Peter Boamah Otokunor.
The statement on Saturday refuted the allegations, blaming his 'doom' prophecies for the incident.

"It was our sincere hope, following the dignified intervention of the National Chief Imam, Rev. Owusu-Bempah, the spiritual advisor to President Akufo-Addo, would heed the cautions from religious leaders and the wider Christian community to exercise restraint in his utterances."



It said the man of God only wants to drag the NDC into the politico-religious "quagmire that this NPP hireling has put the President in, but remain focused on the more important issues of national concern raised in our statement earlier in the week".

The party dared him to proceed to the "appropriate" quarters if he believes its members were behind the attack.


"If Owusu Bempa himself believes in these allegations, he should know how to seek redress through the appropriate channels."

The police have since picked up one person in connection with the attack.