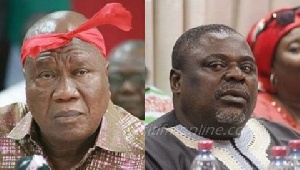 The leadership of the National Democratic Congress (NDC) has hinted they will take disciplinary action against the party's Deputy General Secretary, Koku Anyidoho, who they believe is on a separate agenda to betray the opposition party and feed it to the wolves.
In a press statement issued by the Chairman of NDC, Kofi Portuphy and copied to Peacefmonline.com, Koku Anyidoho is accused of being the face behind a group calling themselves "Young Democratic Forces" designed to frustrate the party's General Secretary Johnson Asiedu Nketia and the hard work of the NDC in the recovery process from their defeat in the 2016 Elections.

The party Chairman further blamed the recent happenings in the NDC on the activities of some high ranking Executives to incite fellow members against the party.

To him, this shows their disloyalty to the cause and vision of the party.

" . . the party bemoans the involvement of some high ranking executives in this grand scheme to mudsling fellow comrades under the possible influence of the opposition NPP," it said.

The statement further described Koku Anyidoho and his cohorts as "bought mercenaries" working for the opponents of the NDC.

"This gives credence to the long held position by true members of the current crop of executives that some of those we trusted were bought mercenaries of our sworn political opponents. On behalf of the true members of the NDC, and on my own behalf, as Chairman and one of few long serving stewards of the NDC, I call on all to condemn and reject with disdain the false and malicious contents of the press statement" by the "so-called pro-NDC group named Young Democratic Forces on the impending National Delegates Congress to elect National Executives Officers".
The Young Democratic Forces released a statement, calling on the delegates to reject Johnson Asiedu Nketia saying "due to the party's defeat in the 2016 polls, it is important for the National Chairman, General Secretary, National Organizer and National Youth Organizer to step down and leave their offices for new breed of people".

But Mr. Portuphy admonished the party delegates and members to ignore the statements by the pressure group saying "the party has come a long way after the very embarrassing defeat in the 2016 polls.

We recognize the contribution of our General Secretary Johnson Asiedu Nketia - against whom the statement is targeted in efforts towards maximizing such gains. We therefore categorically state after through scrutiny that the said press statement carries no weight aside the deliberate attempt to injure the exemplary reputation of the party's hardworking General Secretary".

He assured "in due course, the front liners and beneficiaries action under the provisions of the NDC constitution".