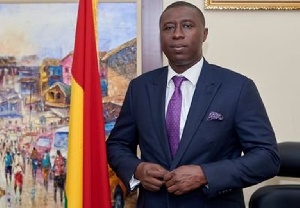 Member of Parliament [MP] for Okaikwei Central Constituency in the Greater Accra Region, Hon Patrick Yaw Boamah has revealed the Director-General of the Criminal Investigations Department (CID), Deputy Commissioner of Police (DCOP) Maame Yaa Tiwaa Addo-Danquah, did no wrong in holding a press conference to update the state on the efforts made by her outfit to rescue the Takoradi kidnapped girls back.
"DCOP Maame Yaa Tiwaa Addo-Danquah has done nothing wrong in calling a press conference to update citizens on the work done so far concerning the kidnap girls. She is rightly working per the rules of her position," he said.

To him, it is important the parents of the kidnapped girls' get to know that the security agencies are not idling about on the matter.

"…Nobody is happy in this country about this issue but I believe the police service is doing their possible best to get the girls back which is the ultimate aim of the parents. They must as well consider that it is not an easy task to get their children back to them, a lot of procedures are being considered that cannot be made public as they wish due to security reasons," he added.
Touching on the trading of accusations between the Electoral Commission and the National Democratic Congress (NDC) on UTV's 'Adekye Nsroma' panel discussion programme, the NPP MP believed the opposition party deserves to be described as a threat to democracy by the electoral body.

"They deserve that description from the EC boss because their own representatives accepted the preparations leading to the 2020 elections on the floor of parliament, so why should the same people publicly speak out against the same thing they have already agreed to," Yaw Boamah stated.