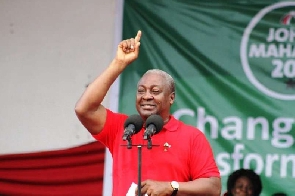 Former president John Dramani Mahama has revealed that party executives being asked to sacrifice for the party without benefitting will be a thing of the past.
The presumptive flagbearer of the National Executive Congress (NDC) during a flagbearership campaign stop in the Eastern Region earlier this week, stated that the days of sacrificing as executives are over.

He outlined that the party will ensure that party people are given consideration during recruitment exercises. He added that eve retirees still serving the party will be asked to bring dependents to be given jobs.

"Things weren't perfect but we were doing well. Today, whatever you do results in nothing. Ghanaians are calling for rescue.

"Historically, we came from PNDC to NDC. During the PNDC era, we were oriented to be sacrificial even in government. Things have changed since then and party executives must benefit," he told teeming supporters at the St. Peters Secondary School at Nsawam.

"So, if there is a job opening and we are recruiting, even if you are passed working age, you have children, if you bring them, we will employ them.
"In terms of small loans for women, when it is time to disburse, our women's organizers will be there to also benefit," he added.

Stressing on plans to leverage on building small businesses ground-up like poultry, piggery and others, he assured that party executives will be given consideration during the disbursement of such bursaries.

Ahead of the 2024 polls, Mahama has been tipped as the presumptive flagbearer of the NDC with one of his main challengers being Dr. Kwabena Duffuor, a former Minister of Finance.

The other contender is former Mayor of Kumasi Kojo Bonsu. The three will face off in May 13 presidential primaries.