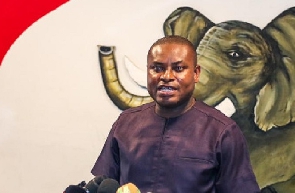 The Director of Communications for the governing New Patriotic Party (NPP), Mr Richard Ahiagbah, has accused the main opposition National Democratic Congress (NDC) of grossly failing to manage the buoyant banking sector bequeathed to them by the then president John Agyekum Kufour and his NPP-led administration.
According to him, it is the mismanagement of the sector by the NDC that brought the banking sector to its current state.

The NPP's communications kingpin made this accusation in a tweet reacting to the tweet of former President John Dramani Mahama that: "Back from a trip to the Savanna, Northern and Upper West Regions – and poverty has worsened due to extreme inflation and price volatility.

"The economy is in a near state of collapse; clearly, the NDC has been a better manager of the economy!"

In the said tweet, Mr Ahiagbah further accused the NDC of not being able to manage a small Guinea fowl rearing project and wondered how the NDC could manage the Covid-19 pandemic and the Russian-Ukraine war.
He explained that this clearly shows NDC is not the better manager of the economy.

Read the tweets below:


Clearly, the NDC cannot be better managers of the economy because The NDC could not solve dumsor, manage the buoyant banking sector they inherited or manage a small guinea flow rearing project, etc. Can you imagine Covid and R-U war under NDC? Disaster!#Ghana #GH https://t.co/c5Ttowvrfw

— Richard Ahiagbah Official (@RAahiagbah) January 19, 2023