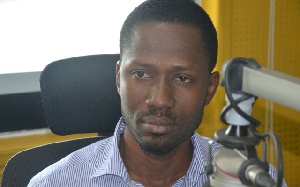 The National Democratic Congress (NDC) negotiated a bad deal with the International Monetary Fund (IMF) that prevented it from accessing loans to carry out projects, policy analyst Jason Tutu has said.
According to him, former Deputy Minister of Finance Cassiel Ato Forson has made claims that the IMF was unfair to the erstwhile National Democratic Congress (NDC) by not allowing it enough fiscal space to carry out government's policies, though the situation has been different with the governing New Patriotic Party (NPP).

Mr Tutu, who was speaking on Class FM's Executive Breakfast Show on Tuesday, April 18, host Moro Awudu: "In their time, IMF was [on their necks] and Bank of Ghana was zero rated with no fiscal room for them to say they are taking more of these [funds] for this [project]."

He continued: "I don't know whether it was favouritism in playing a neutral arbiter, but I will say it is the style of negotiation… You sat at the table with IMF, did you speak to them as co-equals, did you present your case well? It is how you present your case."

According to Mr Tutu, "the NDC is in the same boat as the NPP [but] they failed in proper negotiations and that is why they could not get the IMF to give them what they wanted".
However, "these guys [the NPP] have come in and they talked to the IMF that 'this is what we want to do; meet us halfway'".

He, however, charged the government to ensure that borrowed funds are used judiciously even though he disagreed with borrowing to finance projects.

For him, "utilisation of borrowed money is very critical in determining whether the cedi will continue to appreciate and whether people at the ground level will begin to feel the effect of the immediate economic success in the short term".