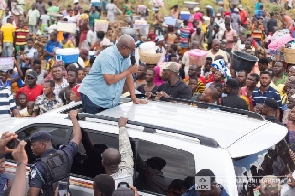 Former President John Dramani Mahama has given the assurance that a new National Democratic Congress (NDC) administration in 2025 will not be in a haste to start new projects.
According to him, a new NDC administration in 2025 will complete all existing projects.

He said all projects will be completed irrespective of the government that started them.

He explained that in 2025, the new administration may not be financially sound to start major projects.

The former president gave this assurance while speaking on the campaign tour of Duayaw Nkwata in the Ahafo Region.
"Roads and school projects among others that have been abandoned will be completed," he further assured.

He said the NDC's new administration will not be selective in developing the country.

He noted that the NDC will not skew development to regions that only voted for the party.

"We will ensure development for all if we come to power in 2025," he said