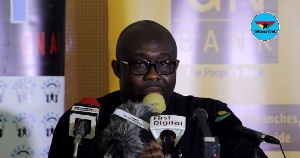 The Deputy Minister for Communication, George Andah has chastised the former President John Dramani Mahama for rubbishing the government initiative to formalise the economy by introducing the Digital Address System.
The former President speaking to scores of party supporters in Cape Coast on Sunday, 5th, October, 2017 after the Unity walk described as fraudulent, the government decision to pay $2.5 million to procure a digital address system which is freely available on our mobile phones and Google map.

But Mr. Andah commenting on the matter said that, "The submission of the Gov't is that the former President has unfortunately displayed a lack of understanding of the technology, Digital Addressing System and his handlers made him understand that Digital Addressing System is a navigation system."

Mr. Andah stated that," His handlers have really let him down and it is unfortunate and the embarrassment he will face with the utterances that he has made, is really unnecessary."
"We have launched a solution, a Digital Property Addressing System that is able to give Ghanaians from any part of the country a digital address that shows which region or district one is from and also give one an area code,"he added.