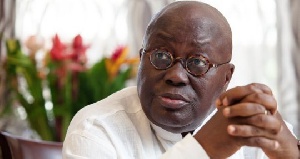 Managing Editor of the Daily Dispatch, Ben Ephson says none of the governing NDC "low blow messages" hurled against the opposition NPP Flagbearer at the Campaign launch in Cape Coast appeared in his newspaper because "he had gone to bed" on Sunday.
Ephson has been flaked for allegedly becoming NDC machinery being manipulated by the government in the run-up to the general polls and also allowing his newspaper – the Daily Dispatch, to propagate "cheap, unintelligent trash" against the NPP.

For instance he's been criticized recently for publishing a former Minister of Finance and Economic Planning in the erstwhile Kufuor administration Dr.Anthony Akoto Osei's jab on MPs, when he[MP] referred to some of his colleagues as useless who are only good at singing chorus in the Chamber.

Many feel the same enthusiasm used in reporting NPP's Akoto Osei's story should be attached same to the barrage of the insults against the Presidential candidate of the NPP, Akufo-Addo during their campaign launch.

But interacting with Fiifi Banson on Anopa Kasapa on Kasapa 102.5 FM, Ephson indicated that the attacks by the main opposition is baseless since in his view all such news from the programme would have been stale to gain currency on the market after the weekend.
"Even pro-NPP newspapers couldn't publish such news' not that they don't have the sense of news but it would have been stale" he added.

He claimed although the elephant family have refused to acknowledge his impartiality on what he does, he would not be bothered on the needless attacks against him.

"They'll not see it, but I don't have a problem; at the end of the day it is my conscience that I have to satisfy," he bemoaned.