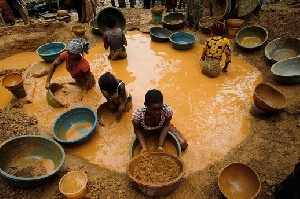 The State Secretary of the Akyem Abuakwa Traditional Council Mr. Daniel Marfo Ofori-Atta says he is quite surprised at the report released by Bureau of National Investigations (BNI) over the involvement of some prominent Ghanaians in galamsey.
The recent 31-page report, named scores of chiefs, individuals and organisations from eight regions of the country as allegedly engaged in galamsey activities.

It accused the Okyenhene, Osagyefo Amoatia Ofori Panin; the Member of Parliament (MP) for Talensi, Mr B.T. Baba, and other personalities of alleged complicity in galamsey. But speaking to Kwame Tutu on Rainbow Radio 87.5Fm, he said the Traditional Council is disappointed in the BNI over the report and indictment of the Okyenhene.

''I am quite surprised at the BNI report…If the report could denigrate the Okyenhene then it is quite unfortunate,'' he told the host.

''How can the BNI draw conclusive findings based on rumours and perception? So the BNI acted on widespread perception and rumours to disgrace the Okyenhene.''

He slammed the BNI for failing to engage with the traditional leaders but rather concluded their findings to undermine the respect, integrity and prestige of the Okyenhene that he engages in illegal mining.
The Secretary who appeared furious alleged that, the previous National Democratic Congress (NDC) introduced galamsey in a large scale during the late Mills' era.

According to him, in the year 2009, galamsey was not prominent in the Eastern but after the late Mills' came into office, they introduced the youth into mining under the Youth Employment Programme. Baba Jamal who was appointed the Deputy Eastern Regional Minister, recruited some miners, bought them an excavator to engage in galamsey,'' he alleged.

He added, the miners were given government protection and that informed the decision of other young people to join.

He indicated that the Okyenhene, concerned about the negative effects of galamsey operations, had engaged the various state actors and institutions, including security chiefs, to assist in dealing with the menace and that he had made a formal complaint to the Inspector-General of Police (IGP), the Chief of the Defence Staff (CDS) and the National Security to assist him in dealing with the problem.