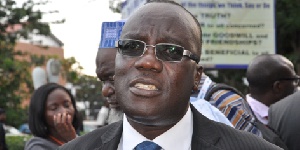 The former General Secretary of the opposition New Patriotic Party (NPP) Kwadwo Osei Afriyie popularly called 'Sir John' has stated that members of the ruling National Democratic Congress (NDC) lack ideas to rule the country because they only dream of herd of cattle chasing them.
According to him, Nana Addo's dream translates into good things because God has blessed him unlike President Mahama whose dream only precedes hardships.

Juxtaposing Nana Addo to President Mahama, on Abusua FM's Abusua Nkommo hosted by Kwame Adinkrah, he said the former has ideas to change the fortunes of the country unlike the latter who is only interested in deceiving the populace with his propaganda messages.

He said businesses will boom when Nana Addo wins power, citing Kalyppo which has been revived by the latter.

Sir John wondered why the Mahama–led government claims of building schools and hospitals when teachers and nurses are unemployed.

He questioned the essence of continuous building of these facilities when personnel have not been employed.

According to him, President Mahama and his family are fabulously rich and do not feel the pains of the ordinary Ghanaian, adding that the President is only good at mismanaging the economy.
Sir John accused the current government of being unable to account for monies spent on projects, saying Ghanaians will die out of poverty if President Mahama and his 'corrupt' officials are not shown the door.

The Former General Secretary of NPP said the President flies in helicopter when going on campaign tours and so does not experience deplorable road network in the country, wondering why President Mahama does not drive on bad roads to suffer waist pains as faced by commuters on such roads.

The former party executive observed that the country imports everything including okro and plantain from neighbouring country Ivory Coast.

'The President claims the roads in the country are asphalt, why does he flies helicopter, why can't he drive on road to experience the bad roads and suffer waist pains as a result of the bad roads when campaigning? Mahama does not feel our pains. Every Ghanaian is going through hardship except John Mahama, his family, cronies and the likes of National Organiser of NDC Kofi Adams; they are not worried that people are unable to pay school fees.

Mahama and his NDC lack ideas to rule Ghana; they are always chased by cattle in their dreams. So they don't know how to manage affairs. Only bad things precede their dreams. Good things precede Nana Addo's dreams. They speak against our ideas and later implement them. Ghanaians will die out of poverty if we don't sack these corrupt officials,' he said.

He pledged that the next government led by Nana Addo will reduce corporate tax and import duties adding that teachers and nurses allowances will be restored.