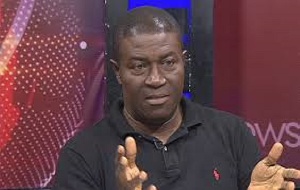 The former communications director of the New Patriotic Party, Nana Akomea, has said the National Democratic Congress (NDC) is in a demoralised state following the party's historic defeat in the 2016 elections.
Speaking on Saturday, Akomea said Ghanaians must sympathise with the NDC after it has emerged that some 17 people are ready to contest former president John Mahama for the party's flagbearership race.

"All of us must sympathise with the NDC for what they are going through. I mean here is a party that has suffered the biggest electoral defeat in the fourth republic. Both parliamentary and presidential, the defeat they suffered has never happened before in the 4th republic so the party is clearly in shock. Very deep shock. Especially when they were the incumbent and the incumbent taking part in the elections," he said on Joy FM current affairs show, "Newsfile."

He added: "This kind of defeat will really demoralised everybody. They are in a very demoralised state and they are in a state of shock. We must sympathise with them what they are going through at the movement."

Nonetheless, the New Managing Director of the Intercity State Transport Company said the former president will easily win the party's presidential race if he decides to contest.

"I still believe that if the incumbent John Mahama is to contest he will be the man to beat especially if they are going to have four or five contestants," he said.
"This is because the incumbent has an organisation on the ground by reason of the fact that he is the incumbent. All these District Chief Executives who are stalwarts of the party at the district level and the constituency level, the Ministers of State [he appointed], that is an organisation. His wall chest is bigger. You are starting from scratch to build up structures on the ground to prosecute your campaign but he [Mahama] already has them so he has the advantage."

Meanwhile, a senior NDC MP has said 2016 elections result is "very difficult and mysterious to understand."

Speaking on Saturday, Mr Rashid Pelpuo, MP for Wa Central, said the NDC administration did it best to meet the expectations and developmental needs of Ghanaians, citing the construction of 50 day Senior High Schools, hospitals and roads to back his claim.

He said: "this is one of the elections that have been very difficult and mysterious to understand. You have a government that is responsive to the needs of the people, you have a government that built schools, they [Ghana] wanted roads, we built roads, they wanted hospital, we built hospitals, they wanted water, we supplied water, we did everything that was possible to ensure that the people of Ghana know that this is a government that is responsive and responding to their basic need and creating conditions for them to be able to develop themselves individually and creatively.

He continued: "In the end the same people voted against us as if we didn't do anything at all. We built and international airport harbours. It has never happened in the history of this country for a single government to even build about 50 secondary schools at a go within a space of four years… After doing all these things we thought we had touched the mind, the thinking and we are striking a chord with Ghanaians. In the end we got the worst votes that had ever been recorded since 1992."