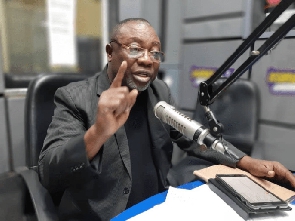 A former Ghanaian Ambassador to India, Sam Pee Yalley, has sent a strong message to people who seek to derail or thwart the efforts of the NDC flagbearer, John Dramani Mahama.
This reaction comes on the back of John Mahama being sued by a citizen, Kenneth Kwabena Agyei Kuranchie to restrain him from contesting as the flagbearer of a political party or the presidency in the future.

Sam Pee Yalley directed the plaintiff to rather focus his energy on finding and reporting the culprits involved in siphoning the country's oil revenues away instead of suing Mahama.

"Today, what should attract people like Ken Kuranchie is to report on how our oil revenues are being siphoned away," Sam Pee suggested.

Speaking on TV3 Newday, Sam Pee, however, wished Ken Kuranchie well in his suit against John Dramani Mahama but noted that the plaintiff should know that the NDC has a duty to protect their leader and they will.

"He [Ken Kuranchie] should know that over 6 million people voted for John Mahama which is almost equal to President Akufo-Addo; the difference is about 500 or so.
"At least we have 6 million plus people. So, the NDC is not a party anybody should toy with. That's the point I want to establish.

"The NDC went for congress recently and overwhelmingly elected John Mahama. We have a duty to protect our leader by any means legal," Sam Pee added.

News broke on Tuesday, June 13, 2023, that the flagbearer of the NDC, John Mahama had been sued by one Kenneth Kwabena Agyei Kuranchie.

According to the plaintiff, Kenneth Kwabena Agyei Kuranchie, the constitution through Article 66 (1) of the 1992 Constitution indicates that a person seeking a second presidential term must be a sitting president and in the case of former President Mahama, he is only seeking to recontest after being out of office for about 8 years.


Focus on siphoning of oil revenues, not JM: Sam Pee Yalley urges Ken Kuranchie#TV3NewDay pic.twitter.com/Oru3WIbIWA

— #TV3GH (@tv3_ghana) June 14, 2023
Meanwhile, a member of the legal team of the National Democratic Congress (NDC), Abraham Amaliba, has said that former President John Dramani Mahama has not received any lawsuit challenging his candidacy for the 2024 elections.

According to him, the suit is just to divert the attention of Ghanaians from the current economic hardship in the country and his being championed by the New Patriotic Party (NPP) government.

Watch the latest episode of The Lowdown on GhanaWeb TV




You can also watch the latest episode of People & Places here:





ABJ/WA