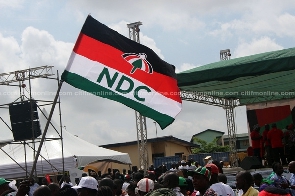 The opposition National Democratic Congress (NDC) has launched its "operation over 1.5 million votes in Ashanti region" in the Asawase constituency.
The project was launched on June 4th, 2023, during the party's Unity Walk in the constituency.

Muntaka Mubarak, Member of Parliament for Asawase, spearheaded the initiative, which was supported by numerous other Minority caucus MPs.

The other MPs that graced the ceremony were former Minority Leader Haruna Iddrisu, MP Tamale South, Alhassan Suhuyini MP Tamale North, Mohammed Murtala Ibrahim MP Tamale Central, Abdul Rashid MP Wanch constituency, Francis Xavier Sosu, MP Madina constituency, Nii Lantey, MP Odododiodo constituency, Abdul Salam Adams and Ashanti regional chairman Augustus Nana Kwasi and other regional executives of the party.

In his speech to the supporters, the former Minority Leader stated that re-electing Muntaka as the parliamentary candidate was not a mistake but rather the ideal choice.

"You made no mistake by making the choice. Even though he is not holding any position in parliament now, we, the NDC minority in parliament, still see him as a leader we can trust any day. He grooms us, and we owe him that loyalty. So we are here to thank you for your support towards his election".

He urged party members in the constituency to put aside their differences during the party's internal primaries following the election of new leadership for the party to lead the constituency into the 2024 election.
Haruna Iddrisu stated that the party's goal is to secure over 1.5 million votes in NPP strongholds in order to break the NPP's stranglehold in the Ashanti region.

"I want to thank all NDC supporters in the Ashanti region. NDC's past and present leadership is pleased with your unstoppable support of the great NDC in Ashanti. Awase in the heart of NDC in this region. The crowd I see here means you are already united before this meeting. What I'm expecting from you all is that let's work hard until the election of former President John Dramani Mahama and Muntaka Mohammed."

He added going into the 2024 election the NDC is targeting at least over 1.5 million votes in the Ashanti region. This means the destructive elephant will run back into the bush for Ghanaians to gain their economic freedom".

The Asawase MP, for his part, thanked his colleagues for their support.

He informed the party that he would work with all current and former party leaders in the constituency to guarantee the party's win.

"For me, I don't have any problem against any person against any individual in my constituency. We went for a contest. I won; it's my responsibility to promote unity in the party, which we are doing now. Let's forgive yourself all and work with unity for the collective good of the party," he said.