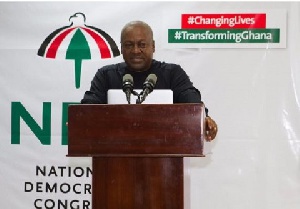 Former President John Dramani Mahama has said the National Democratic Congress' (NDC) need experienced flagbearer and leaders in government to push national development.
He noted that the branch executives were strong pillars and roots of the NDC; hence the need to strengthen them as the Party braced itself for victory in Election 2020 and therefore appealed to them to vote for him to lead the Party again, so that the NDC would have the opportunity to rule the country to alleviate their plight.

Speaking supporters of the Party in the Brong-Ahafo Region as part of his campaign tour, Former President Mahama explained that the NDC and Ghanaians in general had learnt great lessons from the 2016 electoral defeat, saying it was an NDC government that could better the socio-economic livelihood of Ghanaians.

Mr. Mahama has so far toured Central and the three Northern Regions to introduce himself officially to delegates.

Former President John Dramani Mahama has unveiled the team that will manage his flagbearership campaign to lead the National Democratic Congress (NDC) to victory in the 2020 presidential election.

A former presidential staffer, Mr James Agyenim-Boateng, has been as campaign spokesperson and named a former Ambassador to the United States of America (USA), Ambassador Daniel Ohene Agyekum, as his Campaign Manager.
Ambassador Agyekum has held various ministerial positions, including former Ashanti Regional Minister, Minister for Chieftaincy Affairs and other senior level public appointments.

Nii Vandepuye Djangmah and Dr Godfred Seidu Jasaw are first and second deputy campaign managers respectively.

Nii Vandepuye is a former Deputy Regional Minister for the Greater Accra Region while Dr. Godfred Seidu Jasaw was a member of the National Development Planning Commission (NDPC).

Ms. Elsie Esenam Appau-Klu as first deputy spokesperson Mr. Agyenim-Boateng is a lawyer. He is also a former broadcaster and media manager.

Ms. Appau-Klu is a lawyer, Human Resource practitioner, Policy Analyst and Water Governance Specialist.