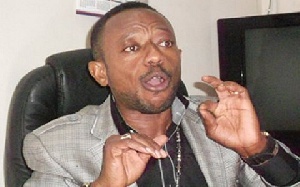 The opposition National Democratic Congress (NDC) has expressed satisfaction with the attack on the Odorkor Branch of the Glorious Word Power Ministries International Church of Reverend Isaac Owusu-Bempah.
The angry youth besieged the premises of the church in Accra and vandalized properties following a prophecy by Rev. Owusu Bempah that the National Chief Imam of Ghana, Sheikh Nuhu Osmanu Sharubutu would die in 2019.

The cleric, who is known for his annual prophecies, also prophesized during watch night service on December 31, 2018 that former presidents and a Vice President would need prayers.

The pastor's prophecy on the eve of New Year was not taken kindly by some Muslim youth.

The irate youth destroyed Rev. Owusu Bempah's billboard, glass louvers and other items.

There has been mixed reaction to the attack on the church, with some condemning the act while others have sought to justify it on social media.

A release jointly signed by Efo Worlanyo, Brong Ahafo Regional Youth Organizer of the NDC and his two deputies, Kwaku Runnie and Owusu Ababio, stated that "the Brong Ahafo Regional Youth Wing hereby congratulates the Muslim youth for their show of bravery on Owusu-Bempa's premises."
According to the statement, "We are happy because the confident trickster called Owusu-Bempah has religiously terrorized this nation for a long time with his predictions which he calls 'prophecy."

The statement indicated that Rev. Owusu-Bempah has over the years shown his hatred for former President John Mahama, predicting his death several times.



It said, "Today, his so-called prophecy has gone bad for him, predicting death for our peace-loving Chief Imam and His Majesty the Asantehene."

Rev Owusu-Bempah, the youth said, has been profiting from his prophecy because the affected persons usually run to him for solution and he names his price."

"No wonder he targets the rich, celebrities, and politicians with names because he knows they are rich and full of milk."


Arrest

"He is a threat to National security and must be arrested immediately.

"Our Muslim youth have done well and we wish to tell them that next time if it must be done, it must be done well. We know NPP Police will start hunting to shoot them but they dare not because the person who needs immediate arrest as a religious terrorist is Rev Owusu-Bempah,"the statement added.