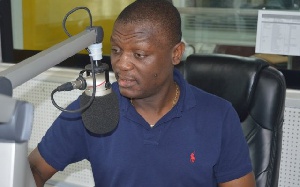 Policies of the National Democratic Congress (NDC) are not different from the agenda of Ghana's first President, Dr Kwame Nkrumah, National Organizer of the party, Kofi Adams, has said.
"Dr Kwame Nkrumah pursued first [an] educational agenda to make sure we build human resource which will be acceptable to do what we must do. The NDC has focused much more on making sure that education in all forms is available and accessible as enshrined in our constitution for us to make our industrialisation agenda possible," he told Moro Awudu on Class FM's Executive Breakfast Show on Friday, September 22.

He continued: "Dr Kwame Nkrumah built Akosombo Dam because he knew that power was needed first in order to industrialize. The NDC government has been working so hard so that the issue of energy problems that we have suffered will never be the case again, and therefore, a lot of investment in energy-related issues has happened."

For him, these serve as "an indication that we (NDC) accept the thinking, we accept what it is that he (Dr Nkrumah) did and we think that things must be done in a methodical way in order to achieve results [and] that is what Dr Kwame Nkrumah stood for [and] that is exactly what we are standing for. We are not shouting that we are Nkrumahists".

His comments were in response to accusations by daughter of Ghana's first President, Samia Yaba Nkrumah, who is accusing the opposition NDC of using Dr Nkrumah's name and the celebration of Founder's Day on September 21 to score "cheap political gains".
Ms Nkrumah, who was a former Chairperson of the Convention People's Party (CPP), said political parties who claim to believe in Nkrumah's ideas must prove it by pursuing his policies.

Her comment comes on the back of a solidarity walk organised by the NDC against what they believe is government's intention of side-lining Nkrumah as the founder of modern Ghana.

However, Mr Adams insists that the ideals and visionary thinking of Dr Nkrumah is evident through the NDC's policies, but being done in a way that will bring maximum gains.