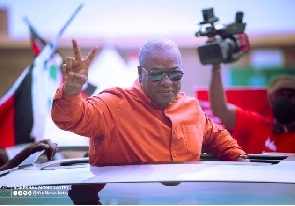 GhanaWeb Feature
"I wish to congratulate the now declared presidential candidate or flagbearer of the National Democratic Congress who now becomes the leader of our party, HE John Dramani Mahama, for a great victory that has been chalked," the words of NDC General Secretary Fifi Fiavi Kwetey on May 14.

The former president delivered a historic presidential primary victory when he polled 99% of votes cast across the country on May 13 during the presidential and parliamentary primaries.

Mahama had long been described by top party functionaries as the presumptive flagbearer of the party and so his victory was more a case of by what margin against his competitors.

With the primaries out of the way, John Mahama gets his fourth consecutive stab at the presidency, having won the first and lost the second and third.

GhanaWeb looks at six major reasons within and outside of the NDC that pointed to an obvious win for the former deputy minister, minister, MP, Vice President and president:

1. Former president, 3-time flagbearer

His role as a former president meant that the party had an already marketed candidate and this was echoed and reechoed by party people as well as political analysts and watchers from the get-go.

The face of Mahama has been marketed multiple times across the country, and he is a household name both in opposition and ruling party strongholds so it was expected that delegates will leverage on that factor and elect him as compared to his two competitors.

2. Widespread endorsement even from national officers
Mahama, long before he declared his intention to contest had been tagged a presumptive flagbearer, at a point then Minority Leader Haruna Iddrisu had stated in an interview that almost all MPs supported Mahama to contest.

Against party rules, even national officers had openly declared their support for Mahama, among them Joseph Yammin who had dismissed the chances of Dr. Kwabena Duffuor and of Kojo Bonsu in the race. MPs had virtually turned their personal campaigns into joint campaigns with Mahama.

Constituency and Regional officers were openly campaigning for him during his tour to canvass for votes.

3. Extensive campaigning

Kojo Bonsu was virtually non-existent in terms of campaigning, Dr. Duffuor did his best but clearly John Mahama's campaign appeared well-oiled and well managed as he traversed the length and breadth of Ghana spreading a consistent message.

One of party restructuring and of vigilance come 2024 and of hope of what the grassroots stood to gain if they worked hard to return the party to office. The campaign was also very strong in terms of communication.

His personal website was churning out news stories, the social media handles were regularly updating his footprints on Facebook, Twitter, YouTube and WoeZor TV was also doing a yeoman's job in terms of overall coordination.

4. Lashing out at government

During these campaign rounds that landed in all constituencies before May 13, Mahama was consistently hitting out at government and doing it such that he almost always got the needed attention.
From attacks on policy, like the Free SHS, from jabs on the gamalsey fight, picking on issues of corruption and misgovernance and more importantly lashing out at the economic malaise that the country was plunged in, he always seemed to hit a raw nerve.

Whiles at it, he usually did the critique whiles putting out a policy alternative when he comes into office which signals what the next NDC manifesto will look like roundly.

5. Public opinion including by NPP persons

The general public was split about a third run at the same post, whiles some said it was time to quit, others pointed to Akufo-Addo and Mills who also tried thrice before winning their first bids arguing further that he should be allowed to come and right his wrongs.

Analysts largely held that the NDC will be shooting itself in the foot if it comes with another candidate who will need to be marketed extensively even internally before to the wider voter population.

Even NPP officials and activists routinely stated that they were ready for Mahama because he was by all means going to be the candidate and as expected by all, he is.

6. Weak competition

The NDC has traditionally seen a landslide win in presidential primaries, the same was expected in this case especially because the competition for Mahama was considered weak.

Weak in terms of pedigree in the party and weak compared to the last set of competitors that Mahama faced (in 2019).
Duffuor did frontline politics for four years under Atta Mills and exited. Kojo Bonsu's highest office has been the Mayor of Kumasi compared to Prof. Alabi as a leading member and Alban Bagbin as a long serving lawmaker back in 2019 and others yet Mahama pulled off over 90% of votes.

98.9% was least expected but it legitimately happened, whether Duffuor's withdrawal counted for that or not is no longer important, Mahama holds the record as the biggest presidential flagbearer primary winner of a major political party.

2024 is set on the part of the NDC, ball is in the court of the NPP. Game on!

AUTHOR:

Name: Alfa Shaban

Email: alfa.shaban@adpugh.com

Twitter: @alfaafrican

You can also watch the latest episode of People & Places here




Share your news stories and ideas with GhanaWeb




To advertise with GhanaWeb